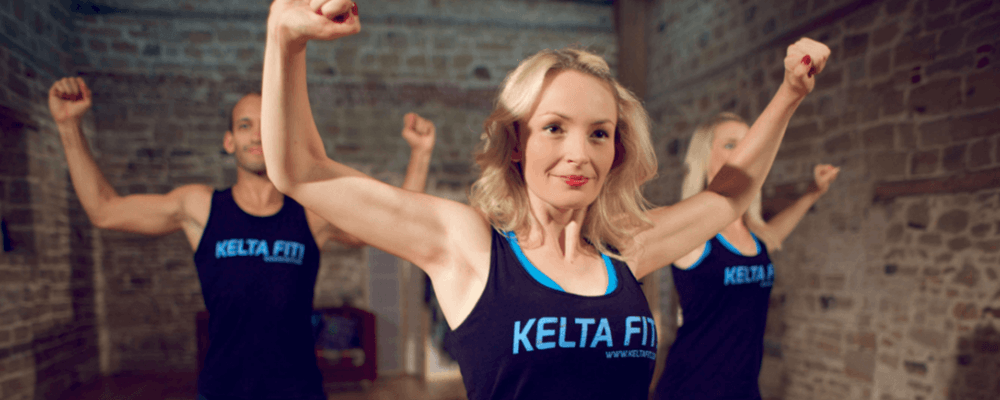 TEACH KELTA FIT
THE PERFECT ADD ON TO YOUR EXERCISE TO MUSIC COURSE
Take the next step from your exercise to music course and teach Kelta Fit. Teaching dance fitness is one of the most rewarding, empowering and stimulating careers. Combine this with the flexibility and ability to lead a healthier work-life balance and you can see why it's an attractive job for many.
If you're looking to expand your repertory, attract a brand-new crowd or just wanting to stand out from other providers, becoming a Kelta Fit instructor could be the perfect career move for you. Whether you have just completed a Level 2 exercise to music course (alternative dance/sports/fitness qualifications are also accepted as a prerequisite), thinking of starting one or have been in the industry for years, our courses suit a range of teaching experiences. Just get in touch with us to discuss the best option for you.
We offer instructor training for fitness instructors, dance teachers and primary and secondary schools. We train a variety of professionals, but they all unite in spreading the high of the highlands, making a positive impact on the physical, mental and social wellbeing of their communities in the process.
It's time for you to start something bigger in your community, love what you do and the difference you make!
WHAT IT'S LIKE
From a typical day in the life of a Kelta Fit instructor to the exciting career opportunities available, find out what it's like to teach Kelta Fit here.
HOW TO TRAIN
All the details you need to give you a heads up on what's involved in our training courses, including the support you receive post qualification.
INSTRUCTOR LOGIN
Kelta Fit trainee and licensed instructors, come this way to access your training manuals, teaching resources and class plans.
INSPIRED TO TRAIN IN KELTA FIT?
If you'd like to find out more just leave your details and questions with us and we'll get back to you. Remember, you can find information on how we store and use your data over in our privacy policy.